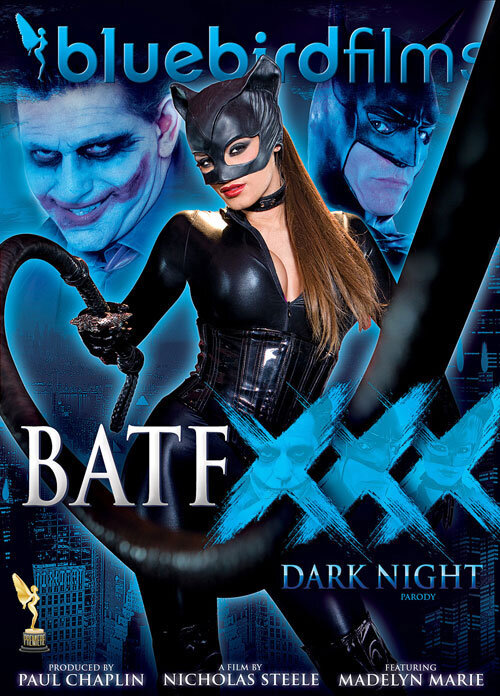 The overrun, bleak dystopia of Gothard City has one stalwart protector: The Bat. In his iconic cape and cowl, Billionaire Bruce defends the city from the scourge of crime. His greatest weapon: his monster cock. He shows off his fantastic prowess by engaging in a thrilling threesome with Blake & Kristina Rose, who are more than willing to do some quick cum swapping.
The Jo-kerr steals Poisen Ivy's latest sex potion to unleash on the unsuspecting population, but not before Ivy (as played by Tory Lane) unleashes her huge tits and takes a scene-stealing rimjob.
The Clown Prince of Crime burns a path of destruction; fighting and fucking his way through the underworld. No one is safe from his carnal fury. Bobbi Starr's hairy bush feels the wrath of Jo-kerr's malevolent dick. Cindy Behr gets a poker chip insertion in her pussy. Rio Lee receives a facial to remember. Only the dashing Bat and his trusty assistants Robina (Krissy Lynn) & Bat Chick (Isis Love) can save Gothard's citizens from Jo-kerr's evil scheme.
This titanic struggle comes to a head in an earth-shattering 12 person orgy featuring Madelyn Marie in the kinky latex of Katwoman, Brynn Tyler riding the sybian, and Isis Love squirting all over the place! The screen can't contain all the hot sex in BATFXXX! A Batman hardcore parody of the Christopher Nolan feature films.
2011 AVN Award winner for:
Best Parody – Drama
Best Art Direction
Best Cinematography/Videography
Best Make-Up
Best Online Marketing Campaign – Individual Project
Best Special Effects