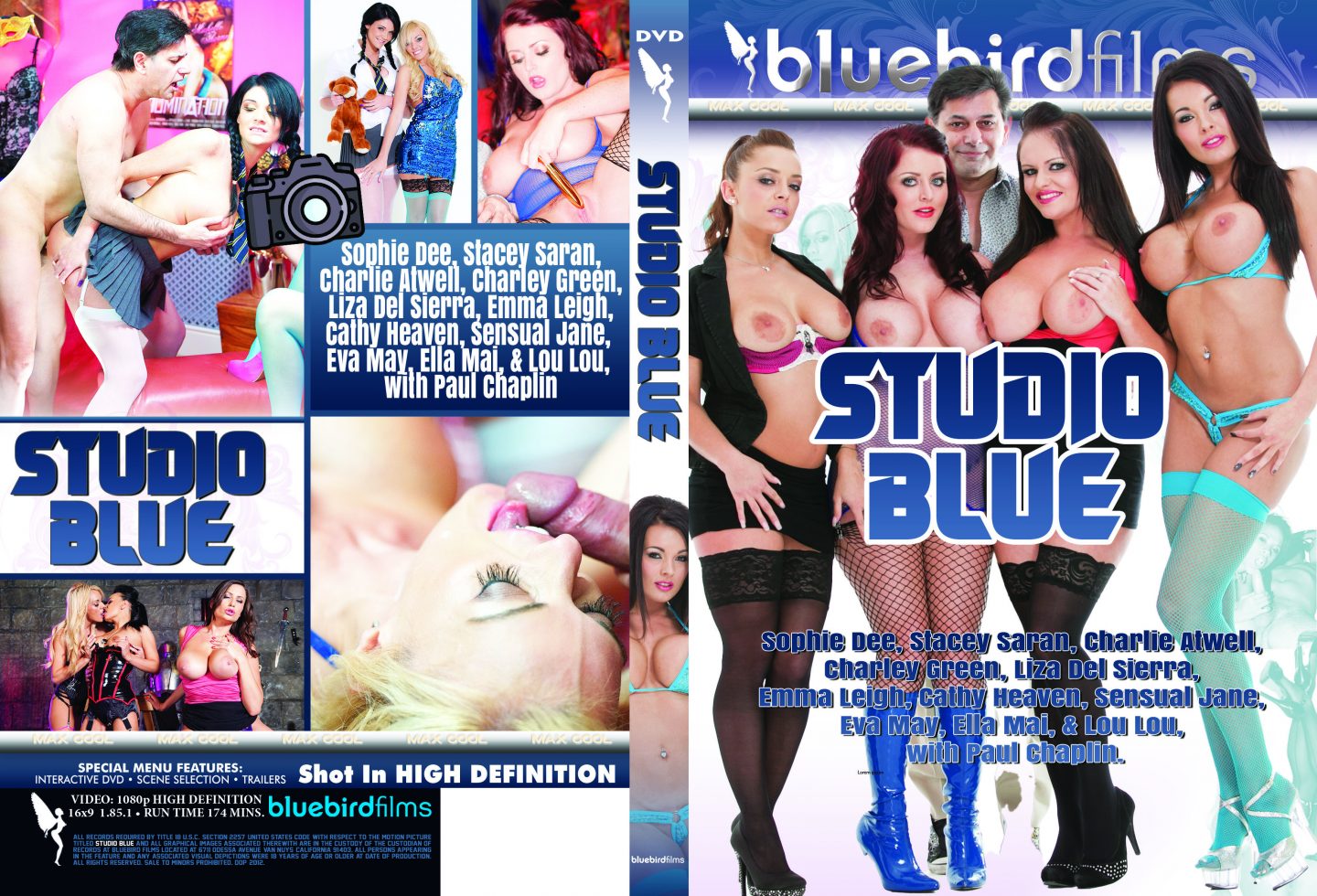 Bluebird Films proudly presents Studio Blue – A lost gem unearthed from the depths of the Bluebird vault, featuring all-new, never-before-seen footage starring Sophie Dee, Stacey Saran, Liza Del Sierra, Emma Leigh, Charlie Atwell, Charley Green, Cathy Heaven, Sensual Jane, Eva May, Ella Mai, and Lou Lou with Paul Chaplin.
Take a tantalizing journey into the erotic world of Studio Blue, where dreams become reality, fantasies come alive, and boundaries are pushed to the limit. The story unfolds through five captivating scenes, each more enticing than the last.
Scene 1: Emma Leigh, Stacey Saran, Paul Chaplin
Scene 2: Liza Del Sierra, Sophie Dee, Charlie Atwell, Charley Green, Paul Chaplin
Scene 3: Cathy Heaven, Paul Chaplin
Scene 4: Sensual Jane, Stacey Saran, Eva May, Paul Chaplin
Scene 5: Stacey Saran, Lou Lou, Ella Mai, Paul Chaplin
The story unfolds as we meet innocent-looking Emma Leigh entering a high-end boutique where Stacey Saran works. Despite her demure appearance, there's something about her that piques the interest of both Stacey and her manager, Paul Chaplin. As they test her knowledge of the products, it becomes apparent that Emma is well-versed in the art of pleasure. Satisfied with her performance, they decide to put her skills to the ultimate test.
Next, we switch scenes to a bustling strip club where Sophie Dee, Charlie Atwell, and Charley Green are performing. Their routine is interrupted by a customer who speaks French, leaving the trio flustered. Enter club manager Paul Chaplin, who fortunately happens to be bilingual. However, this seemingly ordinary encounter takes a steamy turn when the woman reveals herself to be an undercover inspector. Determined to save their livelihoods, the feisty performers band together to prove their worth and demonstrate exactly what they do best.
Back at the boutique/sex shop, Cathy Heaven finds herself distracted by the seductive items on display. Unable to resist temptation, she indulges in a quick masturbatory session right there on the floor. Unbeknownst to her, her boss, Paul Chaplin, catches her in the act. Instead of reprimanding her, however, he joins in, eager to explore their mutual desire.
In another captivating scene, Sensual Jane and Stacey Saran find themselves trapped in a medieval dungeon, subjected to the twisted whims of Paul Chaplin. He pitches a concept for a low-budget dungeon orgy movie, but fierce redhead Eva May vehemently disapproves. Not one to back down easily, Eva May reveals her own plan for the dungeon – a party filled with intrigue, debauchery, and plenty of nudity.
Finally, Ella Mai meets with the studio manager, Paul Chaplin, to discuss expanding and growing the business. Accompanying him are Stacey Saran and Lou Lou, who have their own ideas they wish to share with the boss. Feeling confident in their proposal, they decide to seal the deal in true Studio Blue fashion – by stripping naked and showing off their assets. Will their bold move impress the skeptical manager enough to grant them their wishes?
With almost 3 hours of never-before-seen footage, Studio Blue promises to leave you breathless and begging for more. Experience the raw passion, explicit content, and boundary-pushing moments that made Bluebird Films famous. Get ready to immerse yourself in a world of eroticism and taboo.
I'm happy to say I've recovered yet another film from the Bluebird vault. This movie originally was intended to have six scenes, but the final scene, which was to star Caprice Jane, Charlie Monaco, and Stacey Saran, seems to have been corrupted so didn't make it into the final release. Not to worry, though; I was able to find all the original footage of the first five and get it edited for you! And now it's ready for release!