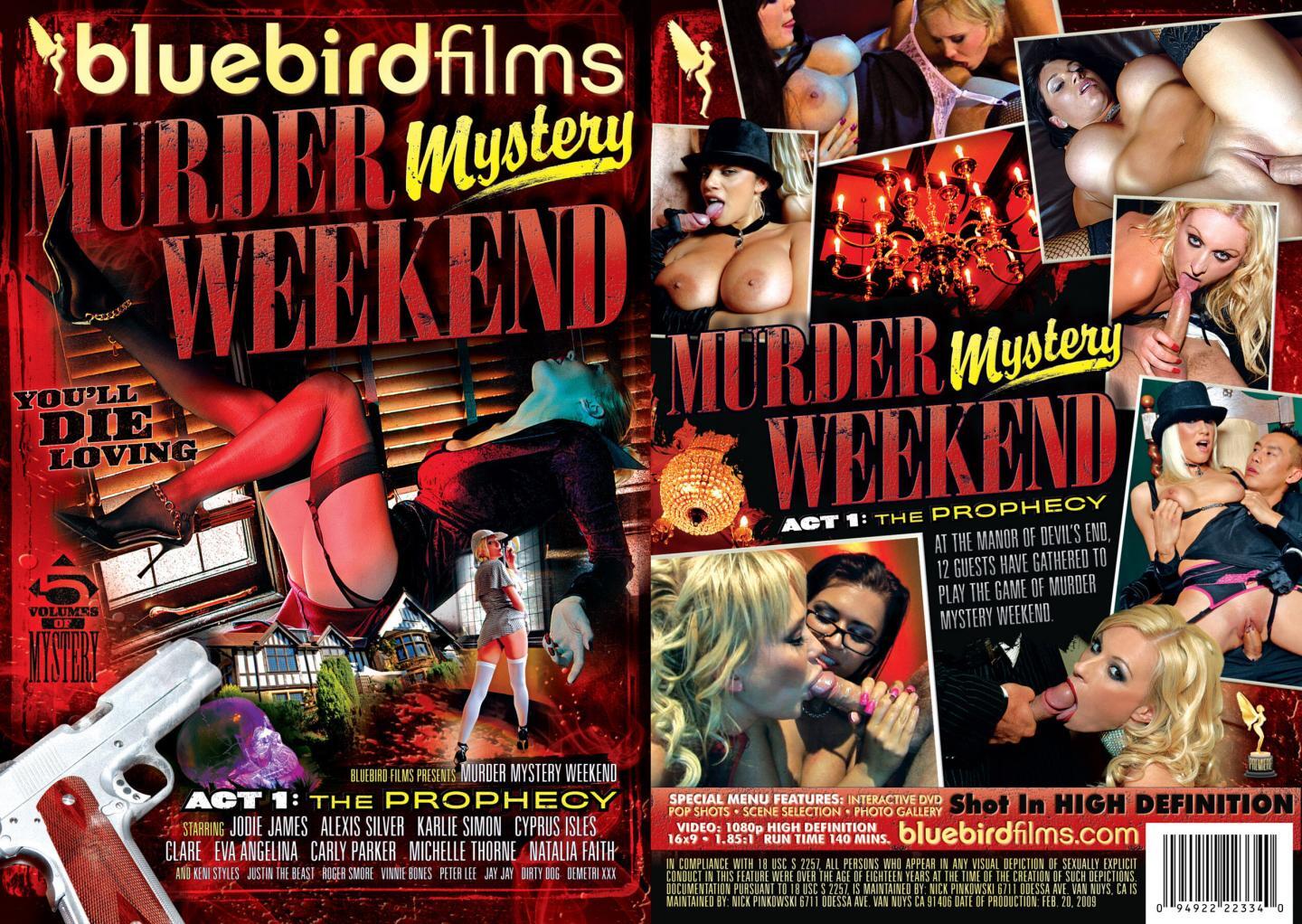 At the manor of Devil's End, 12 guests have gathered to play the game of Murder Mystery Weekend. But instead of murder, these guests have a little mayhem in mind. This is the perfect opportunity to fulfill some of their deepest, darkest fantasies! With orgies, lesbian, and dominating sex scenes… there's something here for everyone! It's the opportunity of a lifetime. Especially when you get to not just cater – but wallow in all your carnal and base instincts! You'll die loving.
This is a 5 part series, so it's a total of 33 scenes which is over 12 hours in insane fuckary!
It's supposed to be a Sherlock Holmes murder mystery parody, but honestly, it makes me think of the game Clue with lots and lots of boobies!
Murder Mystery Weekend: Act 1: The Prophecy
(1 hour and 35 minutes)
Scene 1: Alexis Silver, Cyprus Isles, Karlie Simon, Keni Styles, Roger Smore, Justin The Beast, Jodie James
Scene 2: Clare, Vinnie Bones
Scene 3: Clare, Paul Chaplin
Scene 4: Eva Angelina, Carly Parker
Scene 5: Natalia Faith
Scene 6: Michelle Thorne, Jay Jay
Scene 7: Eva Angelina, Carly Parker, Demetri Xxx, Ian Tate
Murder Mystery Weekend: Act 2: Maiden Fear
(1 hour and 54 minutes)
Scene 1: Savannah Gold, Cindy Behr
Scene 2: Michelle Thorne, Jodie James, Jay Jay
Scene 3: Eva Angelina, Paul Chaplin
Scene 4: Jodie James, Natalia Faith
Scene 5: Savannah Gold, Paul Chaplin
Scene 6: Alexis Silver, Carmel Moore, Caroline De Lys, Paul Chaplin, Keiran Lee, Steve Hooper, Jodie James, Ian Tate
Murder Mystery Weekend: Act 3: Styx & Stones
(2 hours and 39 minutes)
Scene 1: Angel Long, Starr, Kit Lee, Kat Lee, Tony James, Pascal White, Sonny, Rebecca Smyth, Ian Tate
Scene 2: Lezley Zen, Steve Hooper
Scene 3: Kit Lee, Kat Lee, Tony James
Scene 4: Carly Parker, Paul Chaplin
Scene 5: Lola Rivera, Donna Marie
Scene 6: Stacey Saran, Ben Dover, Pascal White
Scene 7: Angel Long, Donna Marie, Starr, Kat Lee, Tony James, Steve Hooper, Pascal White, Rebecca Smyth, Ian Tate, Valerie Pearl
Murder Mystery Weekend: Act 4: Thrill Kill
(2 hours and 54 minutes)
Scene 1:
Scene 2:
Scene 3:
Scene 4:
Scene 5:
Scene 6:
Murder Mystery Weekend: Act 5: The Final Cut
(3 hours and 16 minutes)
Scene 1: Charlie Monaco, Natasha Marley, Sammy Jayne, Paul Chaplin
Scene 2: Kit Lee, Kat Lee, Steve Hooper, Sonny
Scene 3: Danielle Derek, Paul Chaplin
Scene 4: Pascal White, Rebecca Smyth
Scene 5: Stacey Saran, Paul Chaplin
Scene 6: Myla Charles, Kelly Bell
Scene 7: Danielle Derek, Lezley Zen, Ben English